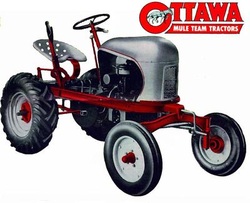 ***NEW*** for 2015
The Ottawa Mule Team Registry

---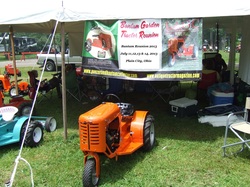 We will be having the 2nd Bantam Reunion at the Plain City Ohio show July 18-21, 2013. All models of Bantams and Wildcat tractors and attachments are welcome. This will be in conjunction with the VGTCOA's Expo 2013 so this will be the show of the season for all Garden Tractors. First reunion we had 42 Bantams and Wildcats in attendance lets see if we can beat that mark. More updates to follow on here and the "Bantamgardentractor" yahoo group.

UPDATE: We had 36 Bantams and Wildcats at this reunion. Had a good time meeting new Bantam Collectors and seeing old friends.

---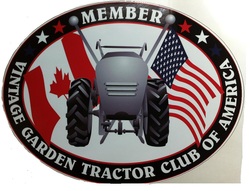 The VGTCOA has a new web site. Click on
the picture to the left to check it out .
VGTCOA is celebrating their 20th anniversary this year and are planning 2 big shows. See the web site for more information on their show schedule.

---
This will be one of the VGTCOA's Expo's for 2014. One of two big shows for our 20th year.

---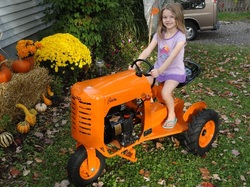 We supplied many parts and information for assembly of this Bantam for the TV show American Restorations.
---
Here are the New Reproduction Hiller and Craftsman Yard Hand garden tractor "Starting Instruction" plate for the dash. Made of .020 alum and photo etched into the aluminum. Two styles available. $30.00 each.


---

NEW ITEM


Mayrath Mobile Tractor
Reproduction Serial Tag
$40.00 shipped.


---

This is Joe and Joann Artman Joe was a long time Bantam Tractor employee and good friend of ours and the link below is a story about the auction Joe had when he decided to turn his collection over to other collectors. Right click and paste to browser the link below.


---

http://gardentractortalk.com/index.html/_/tractor-events/joe-artman-bantam-and-wildcat-garden-tractor-au-r61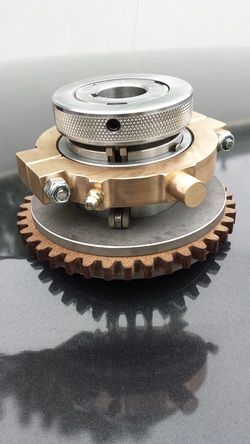 reproduction twin disc clutch
This is the new reproduction of the Twin Disc clutch commonly used on the Might Mite and Frazer Tractors.
email for availability and price.
When you email for price keep in mind the cost from Twin Disc for everything pictured is over $1900.

All reproduction twin disc clutches are sold. Have one NOS Twin disc clutch complete with aluminum drive ring left $SOLD This one has a 1 and 3/16 bore instead of the normal one inch bore with 1/4 keyway. I can make a sleeve and special key if you need for one inch bore. Before passing judgment on price remember the brass part from twin disc is $265 with 4 months wait. The clutch disc and and aluminum drive ring are $110 and that is just about all that is available these days. Last one SOLD no more available.

---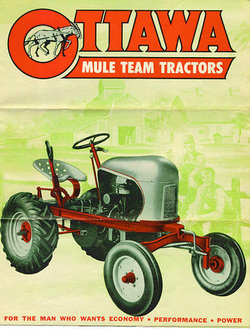 Welcome to our web site. This site contains pictures of our collection of Garden Tractors, some of our restoration projects and restored Garden Tractors. We started collecting 5 years ago and have around 90 Garden Tractors at this time with over 45 different brands. I started with Wheel Horse Jr's and Panzers then Anne found an interest in the Bantam Garden Tractor and at this time we have over 20 Bantams. Having several Bantams we found we needed parts to repair or restore the ones we had so we started making parts for them. On the "Bantam Reproduction Page" you can see a list of the parts we have available for the restoration of your Bantam.

Over the last few years we have attended several tractor shows around the Midwest and back east and have meet so many great people and made many new friends. We have had one of our Bantam's on the cover of LAGT magazine and have written a couple of articles for the magazine. We belong to the South East Kansas Gas Engine and Tractor Club in Pittsburgh Kansas and are members of the Vintage Garden Tractor Club of America and we do the web site for them.

---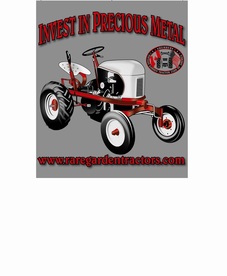 Here is the picture on our new shirts.
Small, Medium, Large and Xlarge $15.00 plus 3.00 shipping
2Xlarge $17.00 plus 3.00 shipping

Use the contact us page if you would like to order one.

---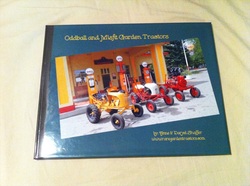 Help Needed.....
I'm working on our "Odd Ball and Misfit Garden Tractor" book and need
Pictures, and information for the book. If you have some high quality photos and information you would like to have in the book please send them to me at vw50splitrag@cableone.net.
Starting a section on rare walk behinds and don't have much information or pictures on them yet.

---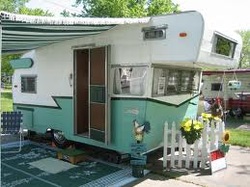 We are looking for a Vintage Camper Trailer to take to shows with us. See our wanted page for more information.
---